Description
Product Reviews
Description
Creatine Monohydrate by Premium PowdersBenefits of Supplementing with Creatine Monohydrate:
•Increase Muscle Size & Strength
•Enhance Athletic Performance
•Speed Up Muscle Recovery Times
•HPLC Tested for potency and purity
•Unflavored & Micro Granulized For Easy Mixing & Drinking
•No fillers
Creatine helps to supply energy to all cells in the body, primarily muscle. Creatine is naturally produced in the human body from amino acids primarily in the kidney and liver. In humans and animals, approximately half of stored Creatine originates from food (Mainly from meat).
Who Should Take Creatine?
Creatine may be effective for healthy Men and Women, over the age of 18.? Anyone looking for increased muscle mass, improved athletic performance, and shorter recovery times.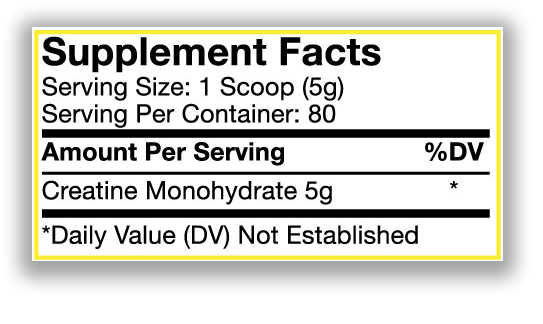 Directions:
Loading and Gradual approach over time have both been proven to be effective. We recommend skipping a loading phase and take 5 to 10 grams per day (1 to 2 servings) after your workout. This method allows you to skip the loading phase, and therefore there is no need to "cycle" Creatine use.
WARNING?: KEEP OUT OF REACH OF CHILDREN.
This product is intended for adults only. Not for use for anyone under 18 years of age, pregnant or nursing women. 5 to 20 grams per day has been shown to be safe and relatively free of adverse side effects. At this dosage Creatine has been shown to improve response to resistance exercise, and increase maximal force production of muscles. The Mayo Clinic has stated that Creatine has been associated with asthmatic symptoms and warns against consumption by persons with known allergies. If you have had a medical condition or are currently using prescription drugs consult your physician before using this product. Avoid this product if you have any previous history of medical dysfunction or disease including but not limited to kidney disease. Discontinue use and consult your doctor if any adverse reactions occur. As with any dietary supplement, we recommend that you consult a physician before use.
These statements have not been evaluated by the Food & Drug Administration (FDA). This product is not intended to diagnose, treat, cure, or prevent any disease. ALWAYS consult your physician before taking supplements.