Description
Product Reviews
Description
D-Test by Power Chews
delivers the clinically proven D-Aspartic Acid with the complimentary L-Carnitine L-Tartrate. Combining these two ingredients has a synergistic muscle building effect as the Carnitine maximizes the D-Aspartic Acid in delivering testosterone to the muscles. Every bottle is loaded with 4 addictively delicious, sweet-tooth-satisfying, blow-your-mind flavors such as heavenly Hawaiin punch, tantalizing lime, mouth-watering watermelon, and sunny orange papaya that taste out-of-this-world AMAZING!
No matter what your age, chewables are emphatically fun, and way easier for athletes on the go. With zero sugars and a full clinical dose of Test Boosting Powe packed inside, Power Chews D-Test will deliver all the guilt-free, sweet-tooth satisfaction you crave, and a whole lot of muscular horsepower too.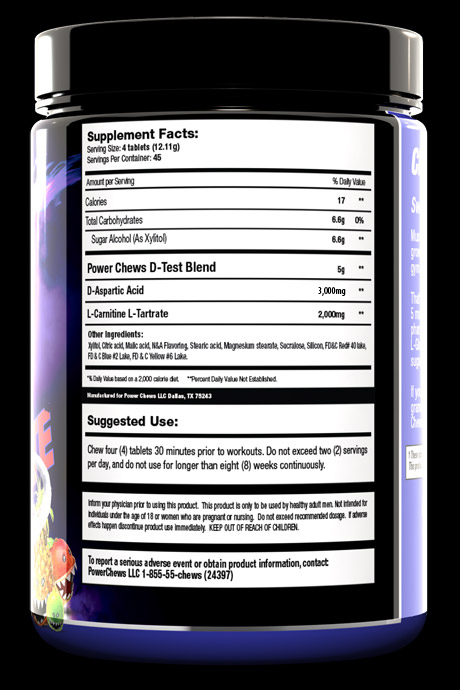 These statements have not been evaluated by the FDA. These products are not intended to diagnose, treat, cure, or prevent any disease.