Description
Product Reviews
Description
DAA (D-Aspartic Acid) by Premium PowdersBenefits from Supplementing with DAA?
•Significant Increase of Strength & Performance
•Boost Natural Testosterone Production
•Enhance Sexual Performance
•Stimulate Libido and Reduce Symptoms of ED
•Stimulate Lean Muscle Growth
•Incinerate Fat
•Help Normal GABA Levels
•Boost N.O. Levels Promoting Faster Recovery
•Increase Natural Energy
•HPLC Tested for potency and purity
•Micro Granulized & Unflavored for Easy Mixing & Drinking
•No fillers
DAA is a non-essential amino acid occurring principally in the pituitary gland and the testes. It plays a vital role in release and synthesis of luteinizing hormone (LH), growth hormone (GH), and testosterone. DAA is a powerful Natural Test Booster with actual human studies that prove its effectiveness. A recent study by Reproductive Biology and Endocrinology showed that males supplementing with 3.12g of DAA for 12 days experienced an increase in free testosterone by approximately 40%!
The Calcium Chelate form of DAA has greater bioavailability than any other form. Supplementation with DAA increases cyclic adenosine monophosphate (cAMP) in the receiving nerves. cAMP is a cell-regulating compound. It plays an important role in the cellular reaction on hormones. Among other reactions, it increases the force of contraction of the heart muscle, helps the arteries and other smooth muscles to relax, and increases lypolysis (fat destruction) as well as the secretion of insulin. In other words, increased cAMP makes your workouts easier and helps you to burn fat.
Who should supplement with DAA?
Males over 21 years of age, and males with infertility due to stress-related causes or lack of sexual endurance could benefit from DAA supplementation.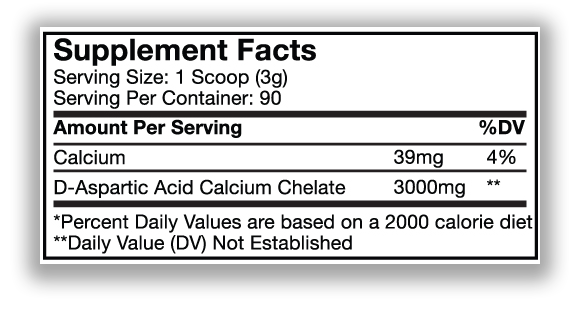 Directions:
As a dietary supplement, mix one scoop (3g) with 8 to 16 ounces of water, once daily.
WARNING: KEEP OUT OF REACH OF CHILDREN.
This product is intended for adults only. Not for use for anyone under 18 years of age, pregnant or nursing women. Side effects may include but are not limited to headaches, nausea, depression, and insomnia.? If you have had a medical condition or are currently using prescription drugs consult your physician before using this product. Avoid this product if you have any previous history of medical dysfunction or disease including but not limited to kidney disease. Discontinue use and consult your doctor if any adverse reactions occur. As with any dietary supplement, we recommend that you consult a physician before use.
These statements have not been evaluated by the Food & Drug Administration (FDA). This product is not intended to diagnose, treat, cure, or prevent any disease. ALWAYS consult your physician before taking supplements.