Description
Product Reviews
Description
Keto Burn by Premium PowdersBenefits of Supplementing with Keto Burn:
•Support Natural Weight Loss
•Can Increase Natural Testosterone Levels
•Support Healthy Thyroid Functioning
•Lower Cortisol Levels
•Provide Stress Relief
•Healthy Immune Support
•Improve Memory & Concentration
•Increase Lean Muscle Growth
•HPLC Tested for potency and purity
Keto Burn by Premium Powders
is a new fat burner designed to target fat - that hard to burn, last to go, just can't get rid of it, fat. Keto Burn targets it and eliminates it. Unlike traditional fat burners, Keto Burn does not use stimulants, so you won't experience crazy jitters, and you won't crash once it wears off. We designed our formula with ingredients proven to burn fat, help lower cortisol, and increase lean muscle mass. Lowering Cortisol Levels and Maintaining a Healthy Thyroid is Essential to Burn That Last Bit of Troublesome Belly Fat!
What is Cortisol and Why is it Important to Lower Cortisol Levels?
Cortisol is a hormone in the body secreted by the adrenal glands. It has been termed "the stress hormone" because it is secreted in higher levels during the body's fight or flight response to stress. Lowering cortisol levels is essential to eliminating unhealthy belly fat! This is why we designed Keto Burn to lower cortisol levels, giving it a remarkable edge on traditional fat burners.
High, prolonged levels of cortisol in the bloodstream can have very bad effects, such as:
- Suppressed Thyroid Function (Healthy Thyroid Function is Essential for Weight Loss)
- Decrease in Muscle Tissue
- Decrease in Bone Density
- Increased Blood Pressure
- Lowered Immunity
- Impaired Cognitive Performance
- Increased Abdominal Fat (Visceral Fat - this is the hardest fat to get rid of, and excess amounts of it have their own negative health consequences such as heart attacks and strokes)
Who Should Supplement with Keto Burn?
Healthy adults who are overweight, dieting, or trying to get rid of that last little bit of annoying belly fat should supplement with Keto Burn.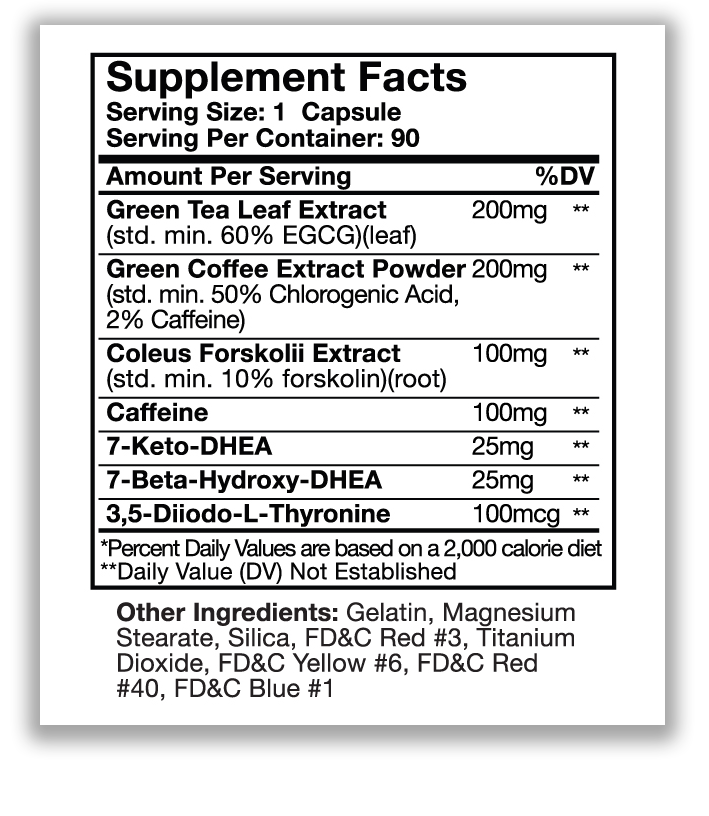 Directions:
As a dietary supplement, take 1 serving (1 capsule) 2 to 4 times daily. Cortisol levels are highest in the morning. For best results, take one capsule when you wake up and another right before lunch.
WARNING: KEEP OUT OF REACH OF CHILDREN.
This product is intended for adults only. Not for use for anyone under 18 years of age, pregnant or nursing women. If you have had a medical condition or are currently using prescription drugs consult your physician before using this product. Avoid this product if you have any previous history of medical dysfunction or disease including but not limited to kidney disease. Discontinue use and consult your doctor if any adverse reactions occur.As with any dietary supplement, we recommend that you consult a physician before use.
These statements have not been evaluated by the Food & Drug Administration (FDA). This product is not intended to diagnose, treat, cure, or prevent any disease. ALWAYS consult your physician before taking supplements.