Description
Product Reviews
Description
Raspberry Ketones by Premium PowdersBenefits From Supplementing Raspberry Ketones:
- Exceptional Fat Loss
- Possible Great Antioxidant
- Increased Lipolysis
- Stimulate Metabolism
- Helps to Suppress Appetite
- Supports Healthy Circulation
- HPLC Tested for Purity
Raspberry Ketones by Premium Powders
(a natural ingredient found in raspberries) promotes fat loss by boosting your metabolism. Raspberry Ketones have been shown to prevent high fat diet induced elevations in body weight. These effects take place because supplementation with Raspberry Ketone increases norepinephrine induced lipolsis. This process not only speeds up metabolism it also curbs your appetite. It is hard to say with each different individual exactly how much weight you will lose or how long it will take, but most users report up to 5lbs of fat loss in a week!
Raspberries are known to be high in antioxidants, which help to keep the body functioning properly despite the advance of age. Raspberries have also been thought to help relax the blood vessels, which can help to avoid heart problems and other disorders. It would take consumption of 90lbs of natural raspberrys to get the same benefitial effects you can get from 100 mgs of Raspberry Ketones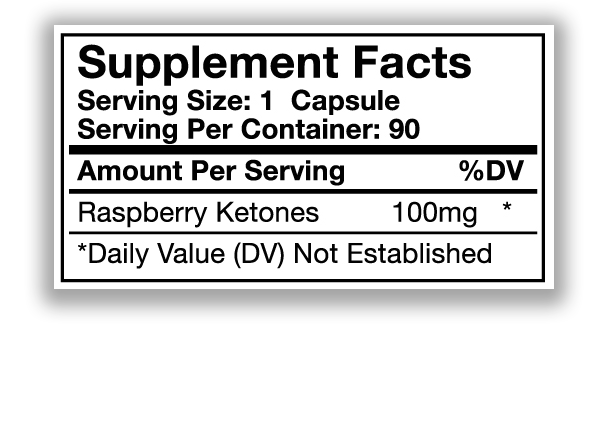 Directions:
We reccomend starting with 100mg 30 minutes before breakfast to assess your tolerance. If you do not see results within a week you can up your dosage taking another pill before lunch, and if necessary one more before dinner.
WARNING:
The FDA placed raspberry ketone on generally recognized as safe (GRAS) status in 1965 and since then no negative side affects have been reported. As with any dietary supplement, we recommend that you consult a physician before use.
These statements have not been evaluated by the Food & Drug Administration (FDA). This product is not intended to diagnose, treat, cure, or prevent any disease. ALWAYS consult your physician before taking supplements.