Description
Product Reviews
Description
Tropical Acai with Resveratrol by Tropical Oasis
contains is a synergistically blended formula for any person looking for a balance in their antioxidant, weight loss, and heart health goals. This great tasting blend combines Acai's antioxidant power with Resveratrol's for additional weight loss and heart benefits. Supporting these two main ingredients are other powerful ingredients including as Aloe Vera juice, Goji, Green Tea, Elderberry, Blueberry, and Mangosteen.
Acai Berry
is a reddish-purple fruit that comes from the Acai palm tree found in Central and South America. Because of it extremely high ORAC value, the Acai berry is classified as an elite superfood due to its powerful anti-aging and weight-loss properties.
Resveratrol
is found in the skin of red grapes and in other fruits. High levels of Resveratrol is found in red wine, which has lead some scientists to believe it may be related to the "French Paradox." The French Paradox is the term used to describe the extremely low incidence of coronary disease in the French population despite their high fat diet and high intake of wine. The Resveratrol supplement allows you to intake the beneficial part of wine without the alcohol.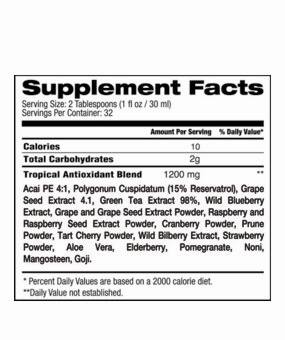 These statements have not been evaluated by the United States Food and Drug Administration. This product is not intended to diagnose, treat, cure or prevent any disease.